In the family history, some signs...
At the top...
The Delcò, of origins from Blenio Valley, probably from Malvaglia, fells along the valleys of Blenio and Riviera until reaching to Bellinzona and settle in the nucleus of Daro. Some documents, which however, today we are unfortunately unable to trace the original bibliography , cited the first ancestor of the current family; Giovanni (John) de Capitis, crossbowman of the castle of Schwyz (Svitto) (or castle of means, or Montebello), In the version of the Heraldic Atelier of Lugano Giovanni (John) was crossbowman in a castle previous to the present ones, the Castle of Saint Peter (S. Pietro). The same document also testifies a Benedict (Benedetto) Delcò, as parish priest in Gudo in 1602.
At the time in which they were carried out such research, viewed the citations, the documentary evidence were present.
By always Daro, at the foot of the mountain that dominates Bellinzona, on the left of choke of the Valle del Ticino, has attracted the interest of the people for reasons of different but, very probably, also for its strategic position, together with Bellinzona. On the spot had been found prehistoric tombs for cremation (Neolithic period-IV millennium b.C.) and, later, remains of Roman outposts. The whole area of the Alps was subject to the Roman Empire, under the emperor Augustus, by means of various military campaigns. Around the 16-15 b.C. Bellinzona becomes an important basis for the Imperials soldiers.
In the course of history was first fraction of the city (in 1173 is cited as "Dali de Belenzona"), and then become common in itself little before 1900 and then return to be a fraction and so remain until to our days. It is well known that the existing structures of Patriziato* of Daro resulting from the Vicinia* that make Daro one of the oldest Patriziato, the canton.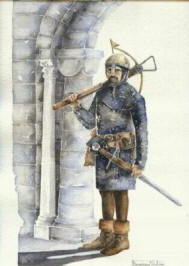 In our case, to attract the De Capitis to Daro, were the castles or better, as is written, a garrison that operated in the castles of which he was part as crossbowman.
Our small Ticino, now rather quiet, was up to a hundred years ago Theatre of battles and power struggles between large of history. "Questa terra è pur una giave e porta de Italia" ("This land is is a key and door of Italy") so the commissioner of war Azzone Visconti defined Bellinzona in a written to the Duke of Milan dating back to 1475 (at the same time a key and a door for Italy: key for the access to mountain passes and a door of passage for Italy). Bellinzona converged on numerous alpine passes in any other place: San Gottardo, Novena (Nufenen), Lucomanio (Lukmanier), San Bernardino, Greina, San Jorio. It was then as today an important crossing on the "Path of the peoples".
In the 1890 Daro is common to itself. Then had 1219 inhabitants. We must take into account that this piece of demographic originates from the fact that in Bellinzona arrived in those years the rail. The station has wrung from the town of Daro and to their respective owners, 170'000 square metres. This work brought in the city and in the fraction much work, and many people from other places.
Immagine: http://www.balestrieridelmandraccio.it/
The years of emigration
The end of the 800 and the beginning of the' 900 are also the years of emigration of Ticinesi and they are numerous the families or individuals who decide to leave their homeland, their land, to go abroad in search of work in order to feed, besides themselves, even the family. Some of our ancestors emigrated in the United States of America too.
I have made different searches also on the Internet and I have come across in many families Delco. The failure to use of the accent is not random; the name Delcò, abroad, loses the Accent. This however complicates much the research because the Delcò from Ticino mingle and are confused between other Delco, certain of the Italians, probably as demonstrated by the Sicilian documents, other formed by a transformation of the family name Dalcourt in Delco. Therefore it was not possible to determine precisely the descendants of the first emigrants in the USA. For the continuation of the research I have therefore sent to the addresses of the families Delco found on telephone directory, a questionnaire.
In the meantime, networking, I have skimmed and retained only data actually speak for offspring from Ticino, here is to begin a example with the relevant documentary evidence:
Family of Delcò Piter e Marietta born Dellamonica
Cemetery of Santa Cruz, California, USA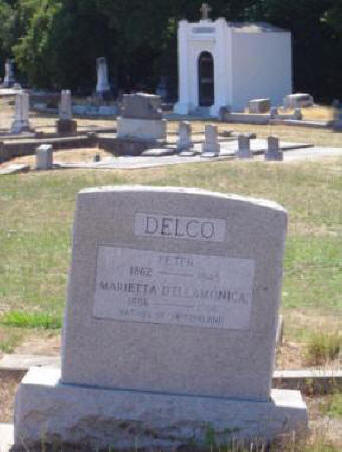 On the grave appear the indication "Natives of Switzerland"
Note: The indication of the Year of Birth differs between the documents of the State civil and those shown on plaque, in the second case could be an approximation also given the historical period in question.
Sources: http://www.findagrave.com / http://www.ancestry.com / http://www.ellisisland.com
This is one of many families from Ticino emigrated in the United States of America in 1892
Delco
Peter (Pietro), born in Arbedo on april 21 1865, son of Peter (Pietro) and Annunziata born Gana (Ganna).
Married in Lumino on april 9 1890 to Marietta born Dellaminica, daugther of Carlo (Charles) and Maria (Mary) born Taminelli.
Sons:
- Mary (Maria), born in Lumino on september 27 1890
- Delcò Pietro Luigi (Peter Louis), born in Lumino on august 25 1892
There are no more recordings of births for this family in Ticino. However, the documents, Federal census use of the 1900 (www.ancestry.com) reported that the family, was composed of other 3 children:
- Enedina, born in California november 1894
- Fredewinda, born in California october 1895
- Severina, born in California nel june 1897
in 1900 the family lived at the adress: Santa Cruz Ward 2, Santa Cruz, California
The reference to the documents of the census are the following:
1900:
California – Santa Barbara – Santa Maria – District 89 – sheet 4a – line 83 (line 34 wife Marietta, line 35 daugther Mary, line 36 son Peter, line 37 daugther Enedina, line 38 daugther Fredewinda)
1930:
California – Santa Barbara – Santa Maria – District 44 – sheet 4 (9?) – line 27
In the census of 1900 is listed the whole family while in 1930, in addition to Peter is mentioned only the Son peter (Pietro) Jr.. The wife has died in 1914 and the daughters probably are married and have changed name and home.
Here is the document found in the Internet on one of the sites referred above, first in general and then in a clear details:
US Federal Census 1900, California, Santa Cruz County, Santa Cruz, District 89, sheet 4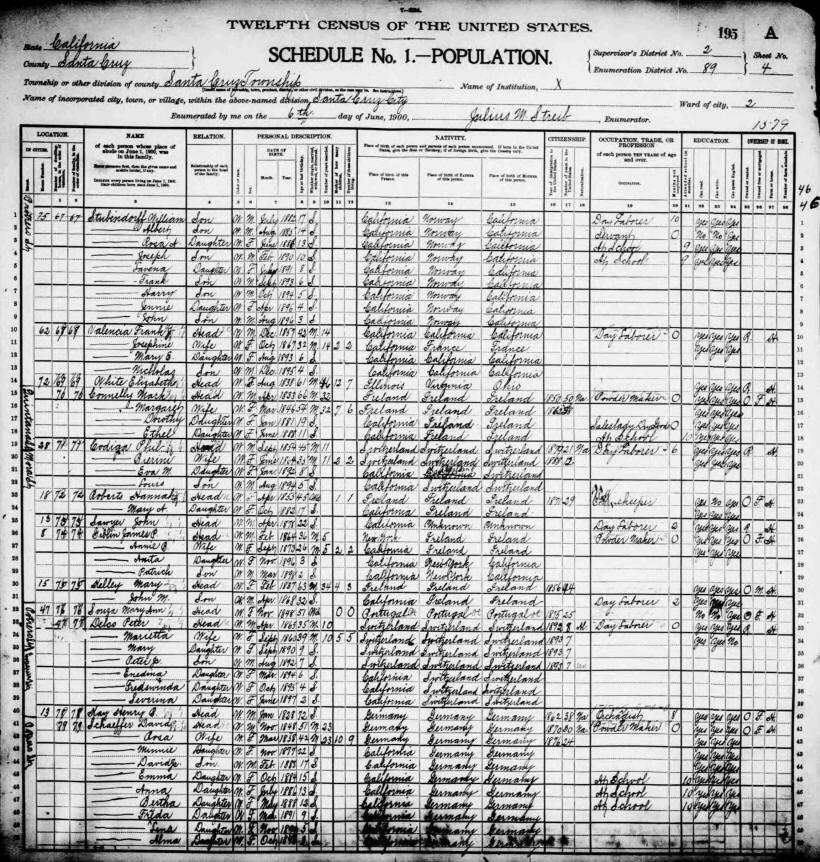 On the Internet I found also the acknowledgement of the journey of emigration of Marietta. The passengers list of the ship on which he was shipped (register Ellis Island page 513 – line 130) indicates that Marietta is of Italian origin even if all the data confirm that this is the wife of Peter. This could have different interpretations: Marietta is actually of Italian Descent (whose parents settled in Ticino) or is it, and I believe is the case more reliable, of a arbitrary recording by the officials of immigration that are based on the spoken language and the fact that the ship was carrying many italians emigrants.
The ship on which Marietta has travelled is "The Bretagne" where has left from port of Le Havre, France and appeared in New York on February 6 1893 (is given the age of 35 years that would trace the birth in 1858 with a difference in two years from 1856, the date stated on the burial).
The documents indicate clearly that she was travelling in company of the daughter Marietta (Mary or Maria) of 2 years (record 065) and Peter (Peter JR.) (record 066).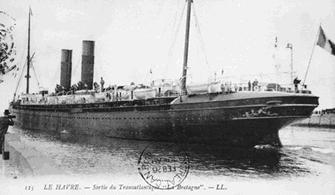 La Bretagne
Built by Compagnie Generale Transatlantique, St. Nazaire, France, 1886. 6,756 gross tons; 508 (bp) feet long; 51 feet wide. Compound engines, triple screw. Service speed 17 knots. 1,060 passengers (402 first class, 60 second class, 598 third class).
Built for French Line, French flag, in 1886 and named il Bretagne. il Havre-New York service. Sold to Compagnie Sud-Atlantique, French flag, in 1912. France-South America service. Renamed Alesia in 1919. Scrapped in Italy in 1923.
This of Peter and Marietta family is however only one of several stories involving members of the families Delcò in great movement of emigration of those years. Documentary sources indicate that have emigrated, always in the USA, other family members such as:
Delcò Rudolph (Rodolfo)
New York Passenger Lists, 1851-1891 e New York Port, Ship Images, 1851 – 1891
Rudolph, 22 years old, went from French port of "Le Havre" on board the "Gascogne" to arrive to Ellis Island on may 4 1891. The final destination reported is San Francisco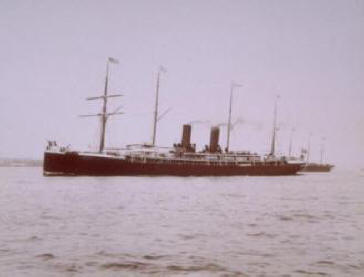 Ship name: La Gascogne
Ship built: 1887
Shipping line: French Line
Ship tonnage: 7,090 tons
Ship description 4 masts, 2 funnels
Delcò Alessio , Born 1874
Register Ellis Island page 513 – line 130
The document sets that Alessio, married, originating in Switzerland has come in the USA on December 4 1893 on board the ship "The Bourgogne", left from "Le Havre" (France).
It doesn't appear any particular additional information about Alessio in the USA, it might therefore think of a travel for work or to a visit to relatives.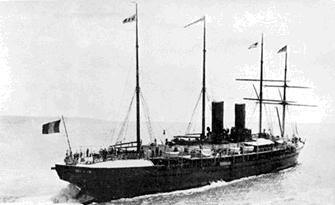 La Bourgogne
Built by Chantiers de la Mediterranee, La Seyne, France, 1886. 7,395 gross tons; 495 (bp) feet long; 52 feet wide. Compound engine, single screw. Service speed 17.5 knots.
Built for French Line, French flag, in 1886 and named La Bourgogne. il Havre-New York service. Sunk following a collision off Newfoundland, 549 lives lost on July 4, 1898.
Delcò Francis Rudolph (Francesco Rodolfo)
US Federal Census – 1930, California - Santa Barbara – Santa Maria – District 42-44 – sheet 14A – line 44
This is Rodolfo Francesco Arnoldo, born in Melide March 8 1898, son of Rodolfo and Angiolina (Angela) born Isella. The Father emigrated already in 1891 in the USA (see above) but it is not clear if he has remained. In civil registers of Ticino are not further information while the US Census shows that:
He is 31 years old (born approximate 1898/99), of origin of Ticino (Country: Switzerland, Language: Italian), parents Swiss, occupation creamery, married at 26 years old with Alma L., 33 years (in 1930), born 1897, marriaed at 28 years old, coming from California (Father Swiss and Italian mother). Have 3 children: Conrad, Wendell and William. In all probability the offspring is born in the USA where he also had place the marriage.
According to the source documentary Ellis Island, it appears that:
Rodolfo, originating in Bellinzona, born on march 8 1898 and death July 20 1993, arrived to Ellis Island, New York on November 19 1921 on the ship S. S. Paris batch from "Le Havre" (France), inhabitant of wallenstadt, for the first time in the USA in visit to a cousin, Mr Severino Zomessi, Santa Maria CA.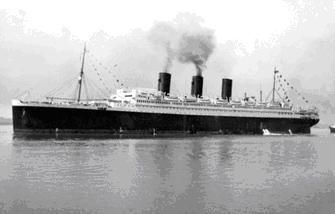 S.S. Paris
Built by Chantiers de L'Atlantique, St. Nazaire, France, 1921. 34,569 gross tons; 764 (bp) feet long; 85 feet wide. Steam turbine engines, quadruple screw. Service speed 22 knots. 1,174 passengers (560 first class, 530 second class, 84 third class).
Built for French Line, French flag, in 1921 and named Paris. il Havre-New York service. Construction began in 1913, but slowed because of World War I. Wreckage scrapped in 1947.
Delcò Mary (Maria)
U.S. Federal Census 1920 – Illinois – Cook – Chicago – District 332 – sheet 4A – line 18
32 years old (born in approximately 1887/88 in Switzerland), Ticino Origin (Country: Switzerland, language: Italian), is not married, and in 1920, at the time of the Census, living in Chicago, Cook, Illinois
Delcò Mary (Maria)
U.S. Federal Census – 1930 – Illinois – Cook – Chicago – District 16 - 527 – sheet 23A – line 1
It 'literally recorded as: Del'co' Mary (made ​​use of apostrophes and accent).
42 years old, Ticino Origin (Country: Switzerland, language: Italian), is not married
Probable relatives Delcò Mary:
The outcome of the U.S. Census 1930 (the only search criterion was: Delco, without indication of origin). You can deduct a certain line of kinship of the people on the list, according to the indication of first degree of relationship of family members, even if it is not specified who is referred to this report. Then according to the place of residence. (extract of the entire census of Delco, 1930).
Chicago, Cook, IL

abt 1882

Louisiana

Chicago, Cook, IL

abt 1888

Switzerland

Chicago, Cook, IL

abt 1898

Yugoslavia

Basko Tronkoff,
Blaga Tronkoff

Chicago, Cook, IL

abt 1909

Figlia

Chicago, Cook, IL

abt 1928

Nipote
Since the 1930 Census Mary is not married you understand the filing as head of household. It is not clear, however, how it is made ​​up of the family and why the daughter of the spouses Tronkoff bear the surname Delco (married? With whom? Because then our Mary is listed as head of household?)